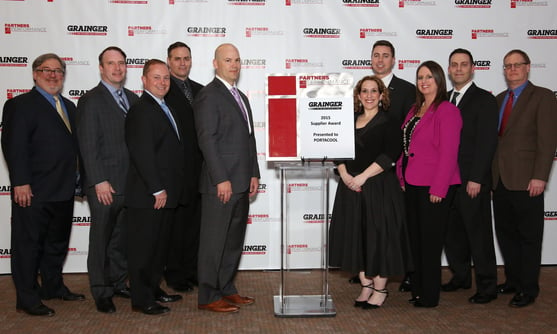 Portacool Recognized as Outstanding Supplier by Grainger
Company Honored as Part of the Annual Grainger Partners In Performance Award Presentation
Center, Texas (March 30, 2016) – Portacool, LLC, the Texas-based global leader in evaporative cooling solutions, was presented with a 2015 Partners in Performance Award as part of Grainger's annual supplier recognition event in Chicago. Grainger, the leading broad line supplier of maintenance, repair and operating (MRO) products serving businesses and institutions, presents the award annually to a select group of suppliers for outstanding performance throughout the year.
Through this award, suppliers are recognized for excellence in several categories, including responsiveness, information integrity, on-time shipping, management commitment and order fulfillment. Each Grainger supplier receives ratings throughout the year for its respective performance in each of these categories. Out of Grainger's more than 3,500 active suppliers, less than 1 percent are chosen to receive these annual awards.
"Portacool is honored to be recognized again by the Grainger team," says Ben Wulf, CEO of Portacool, LLC. "We take our 20 plus-year partnership with Grainger very seriously - as proven by consecutively achieving this award, as well as Supplier of the Year in 2013. We are proud to maintain a high-level of commitment toward providing cooling solutions that impact the safety of our customers."
"Grainger is proud to recognize Portacool for its outstanding supplier performance," said Fred Costello, Grainger Vice President, Global Product Management. "Our customers expect quality products consistently delivered to the right place at the right time. This is not possible without the commitment, dedication and outstanding service of our Partners in Performance suppliers."
About Portacool, LLC
Portacool, LLC is the worldwide manufacturing leader in the portable evaporative cooling industry providing cooling solutions that protect against heat stress and discomfort in hard-to-cool work and residential spaces. The company is dedicated to worksite safety, productivity, sustainability and social responsibility by providing a variety of cooling products "When Comfort Counts™". Headquartered in Center, Texas for more than 25 years, Portacool products are made in the USA with domestic and global parts. To learn more about the company, product line-up or find a retailer nationally or internationally in 56 countries abroad go to www.portacool.com.
# # #
Topics: Grainger, 2013 Supplier of the Year, award, portabable evaporative cooler, Partners In Performance, recognized